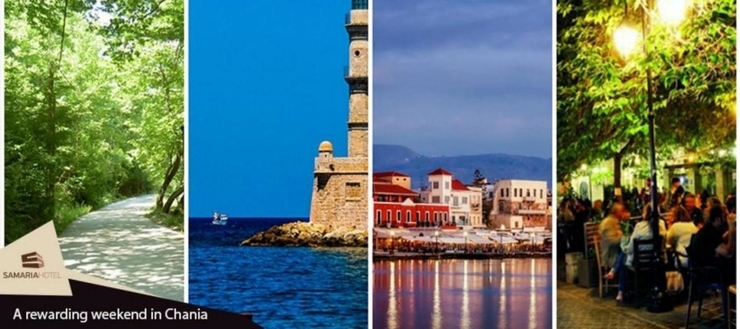 Your rewarding weekend in Chania
---
Famous for the golden sand beaches and its untouched Venetian architecture, the city of Chania together with its nearby areas are an ideal weekend destination for relaxation and culinary delights.
Although the district of Chania is quite large and two days are not enough to thoroughly explore this magnificent place, there are still things to do and see, so that you can get a bit of the local taste!
Follow Samaria Hotel's board Weekend in Chania on Pinterest. If you wish to soak up that all important sun, sea and sand just head to the neighboring seaside resort of Platanias, 11km away from the city center. It is one of the most popular holiday resorts in Crete boasting a stunning long stretch of sand lined with a wide selection of beach bars, cafes and restaurants.
For romantic walks, stay in the city and wander around its narrow cobbled streets, do some shopping and don't forget to sip a coffee to pick you up in Koum Kapi area overlooking the scenic Venetian harbor. Stay there if you'd like some extra evening fun, as the pulse of entertainment in Chania beats right here!
Visitors can enjoy more superb views of Chania and its harbor, along with divine Cretan sweet pastries in the uphill suburb of Halepa nestled in lush greenery.
Last but not least, adventure lovers can go on a one day tour through the famous gorge of Therisso village, 15km away from Chania, and savor the rich flavored Cretan delicacies in the tavernas found there. If you are lucky enough you might even get the chance to see some of Crete's indigenous goats, called Kri-Kri.
Thanks to its variety of places and options of things to do, Chania will surely offer one of the most rewarding weekends of your life!
Your rewarding #weekend in #Chania! Read here http://t.co/DbUZbBKEVL our suggestions! #SamariaHotel #Crete #summer

— Samaria Hotel (@Samaria_Hotel) July 22, 2014
Make your reservation with us for a comfortable stay!