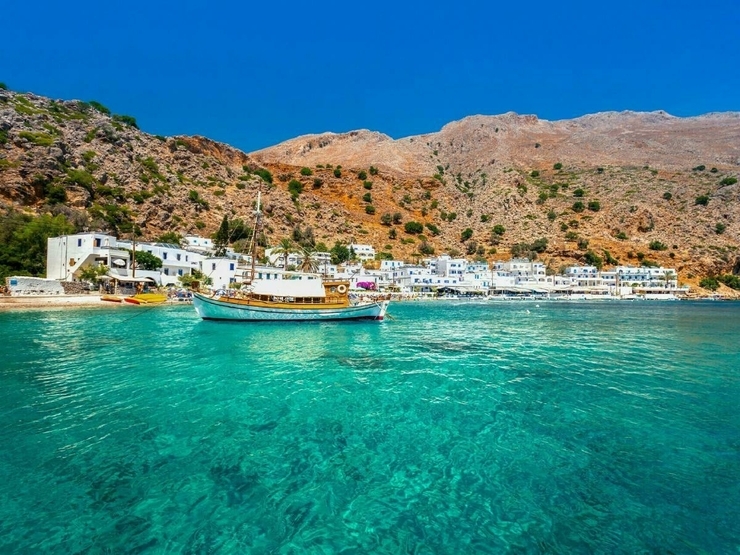 Villages close to Chania worth visiting
---
Chania is one of Crete's loveliest prefectures; apart from the striking Venetian harbour which is an iconic staple of Chania town, it is also home to some of the most phenomenal beaches such as Balos and a few other best beaches in Chania. Like all prefectures of Crete, the main towns in each one are situated on the northern shores. The prefectures split the island into four sections, from north to south, that way each prefecture has a north, a central and a south part. Being Greece's largest island means that visitors of Crete should expect to invest some time in exploring the environs, in order to discover the beauties that lie beyond the namesake major towns of each prefecture. Here are our top picks for the the villages you should visit when in Chania.
Mountain villages close to Chania town
Therisso - 16 km from Chania town lies Therisso where you will find both an impressive 6 km gorge with vertical cliffs and a traditional mountain village the road to which is through a verdant forest. A close-by, locals favourite excursion route from the center of Chania, a short trip to Therisso will introduce you to the diversity of the region's natural beauty. Situated south of Chania town, at the foot of the White Mountains, Therisso will definitely charm you. It carries the weight of history on its shoulders, being one of the villages that instigated the revolutionary wave that led to Crete becoming reunited with Greece in 1905 following Ottoman rule. It was in fact the birthplace of Eleftherios Venizelos, one of the most legendary Greek Prime Ministers. For sightseeing, apart from the Folk Art museum and the National Resistance museum, another notable site is the 16th century church of Agios Georgios that also played a part in the resistance movement. Most locals visit Therisso to escape the urban feel of Chania town from time to time, combining it with eating there since it is renowned for having some of the best tavernas in the greater Chania area.

The road to Therisso: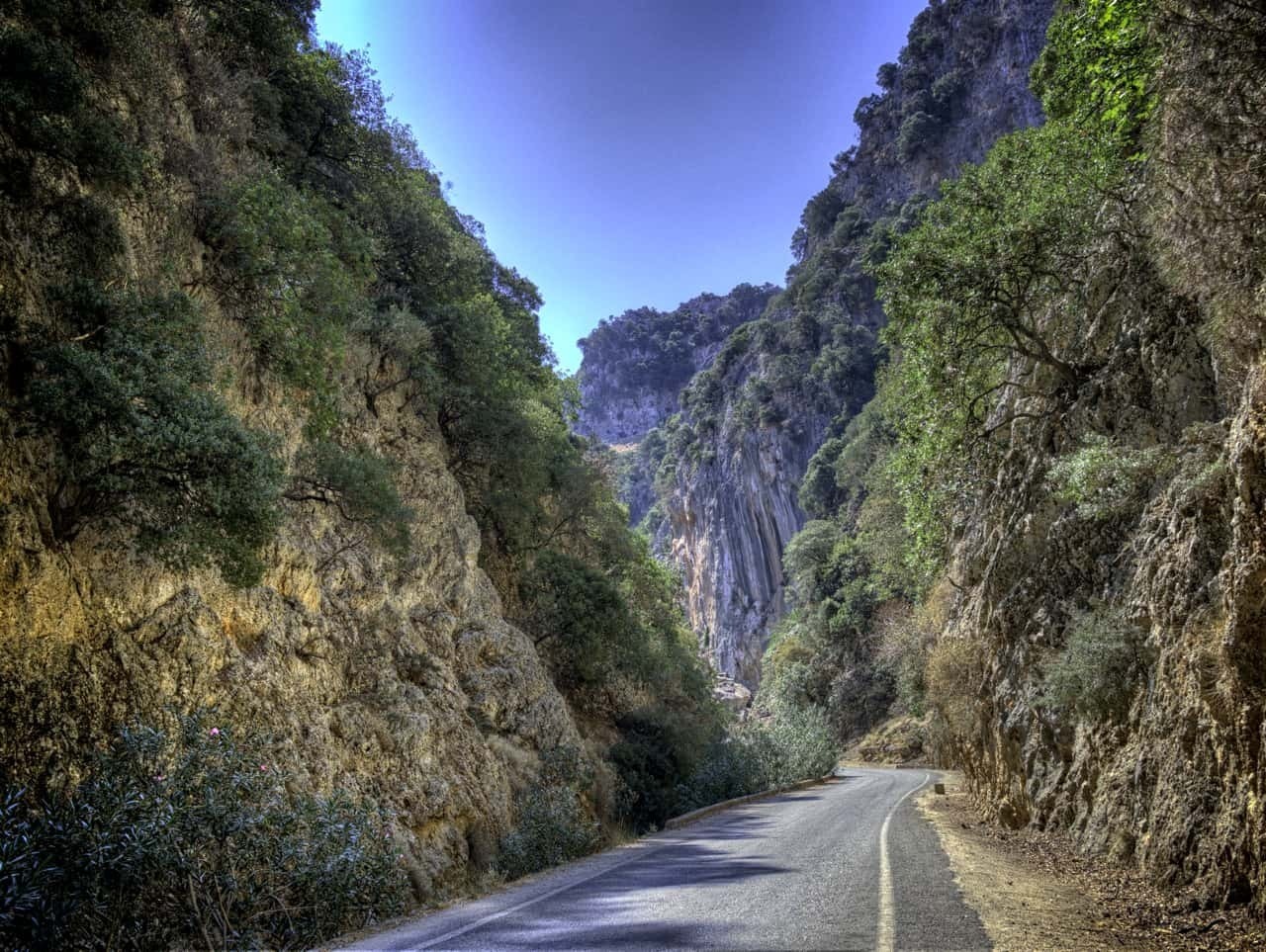 Photo credit: Cretetravel
Vamos - 26 km from Chania town you will find Vamos, a quaint semi-mountain village that has been untouched by mass tourism and still retains its original bucolic charm. It is a perfect example of authentic, Cretan village life that has withstood the test of time. Also found at the foot of the White Mountains, Vamos is surrounded by both wild and cultivated landscapes and visiting it, you will almost be transported back in time. You will witness the traditional, well-preserved stone road that runs through the village, the old mansions and colourful, two-storey houses, the old neighbourhood and village square, soaking up the slow-paced ambiance that Vamos exudes. As most villages not only in Crete but in Greece in general, there are a handful of churches and monasteries to visit in the surrounding area. The 13th century chapel of Virgin Mary, Karidi monastery and the local church of Agios Nikolaos in the center of Vamos. The village only has a couple of places for food and beverage, as is typical of an authentic village that doesn't need to cater for many tourists, but the local kafeneion (coffee shop) and family run tavernas are sure to appease your taste palate.

Sfakia, Chora - view from the sea: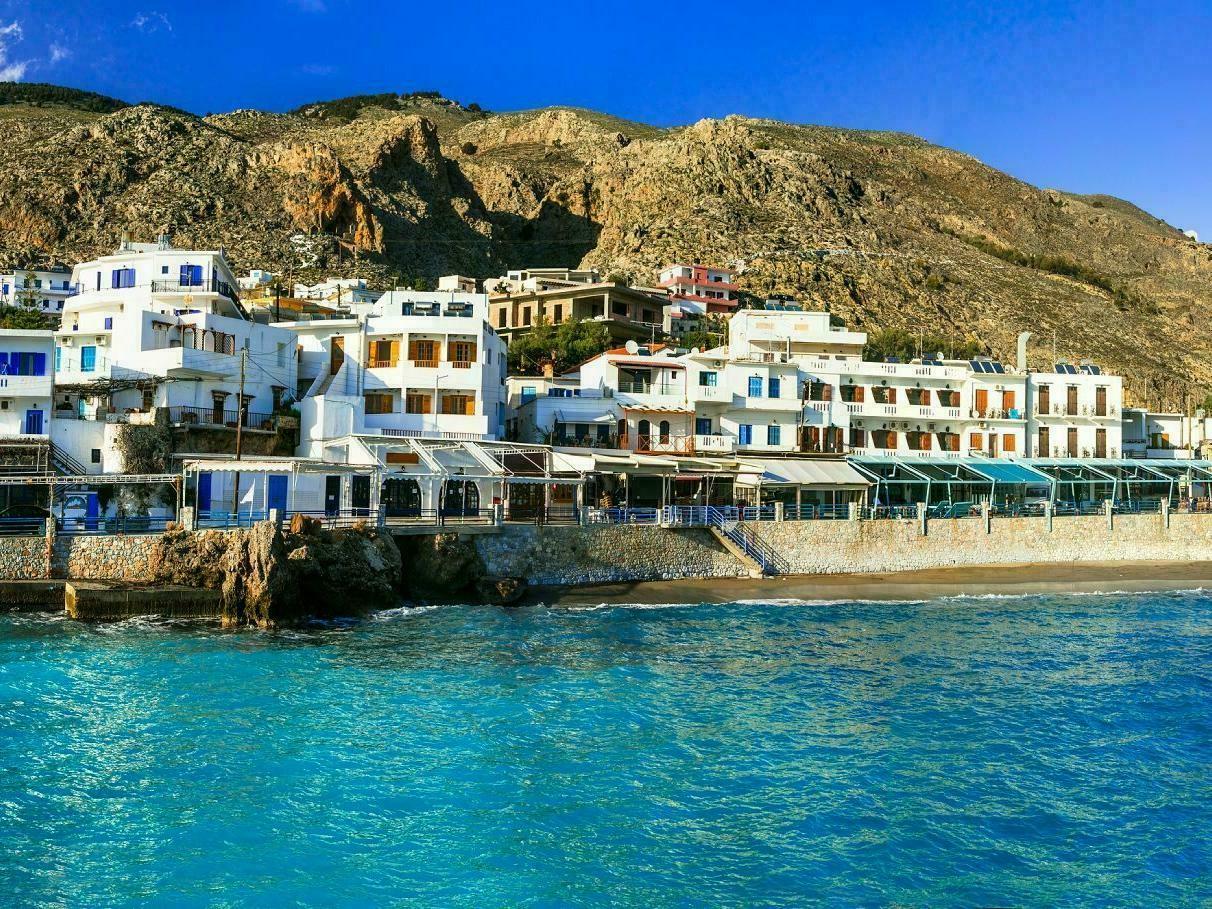 Seaside villages further away from Chania town
Sfakia & Loutro - 70 km south of Chania town, you can get to discover one of the most talked about places in all of Crete. Sfakia, one of the most iconic Cretan settlements located in the deep south of Chania, on the Libyan sea. It is known mostly for its hardy, rugged inhabitants who are the most notorious in all of Crete. Despite their old-school ways, the people of Sfakia are incredibly hospitable, welcoming strangers with a shot of raki and inviting them to sit at the local tavernas that dot the small harbour. Sfakia is where you should definitely go with a healthy appetite since you will love their local treats: a smoked pork dish called Apaki and, of course, their Sfakian pies, usually filled with local Myzithra cheese, served hot and drizzled with local honey. They also do a vegan version of this pie with a greens filling and without honey. Once in Sfakia, you can take a short ferry ride to get to Loutro, an incredible little fishing village featuring emerald, crystalline waters that are the epitome of a Cretan summer's night dream.
The original Sfakian pie: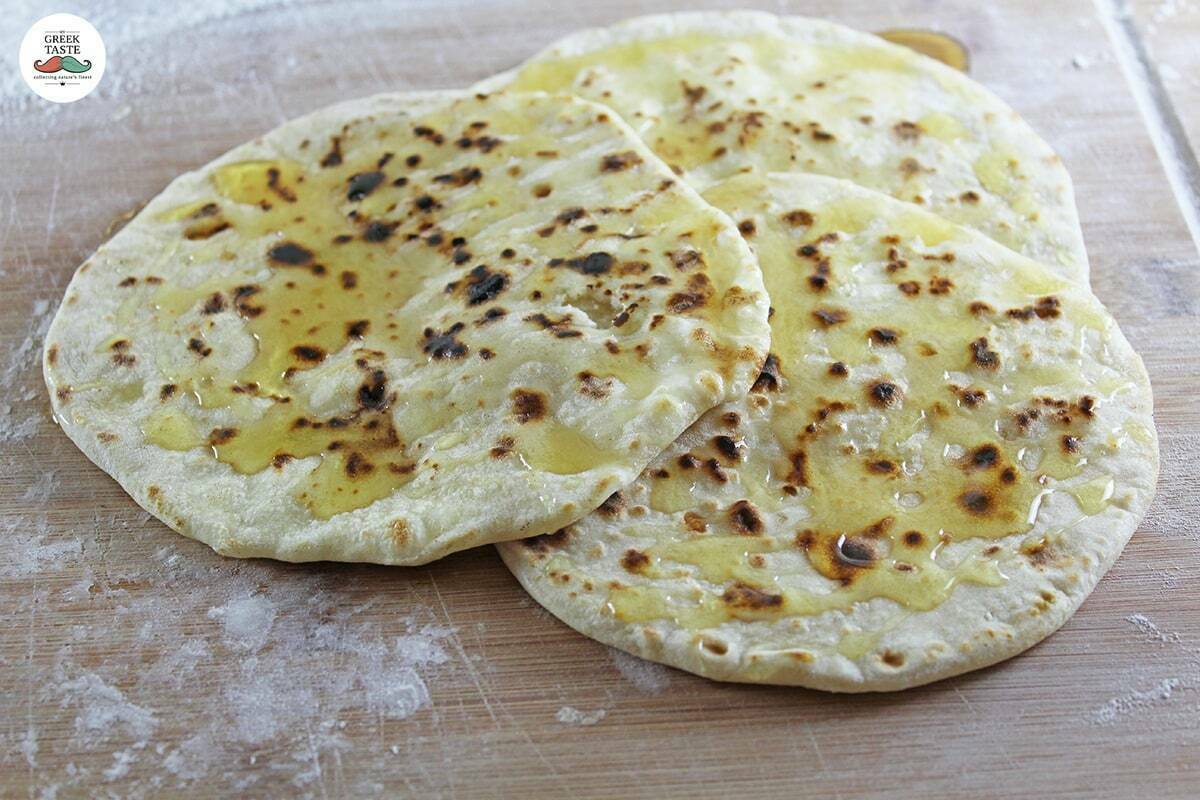 Photo credit: MyGreekTaste
Paleochora - 80 km south from Chania town, Paleochora is one of the most popular seaside resort towns located between two lovely bays. Being a much visited place, it is fully capable of offering a plethora of facilities. Apart from the two wonderful, sheltered beaches of crystal clear waters, it is dotted with numerous cafes, tavernas, restaurants and bars. It is the perfect place to enjoy the atmosphere of a well-organised village that has a fairly large permanent population. What's more to see in Paleochora is a Venetian fortress called Castle Selino, which was originally built in 1282 and is situated at the top of the settlement, commanding fantastic views of the surrounding area. During peak summer, Paleochora tends to get crowded, but its size allows for finding more quiet spots along its 11 km coastal expanse. There are regular ferries that connect Paleochora to the aforementioned Sfakia and Loutro, as well the idyllic islet of Gavdos which is also the southernmost point of Europe.

The gorgeous waters at Loutro: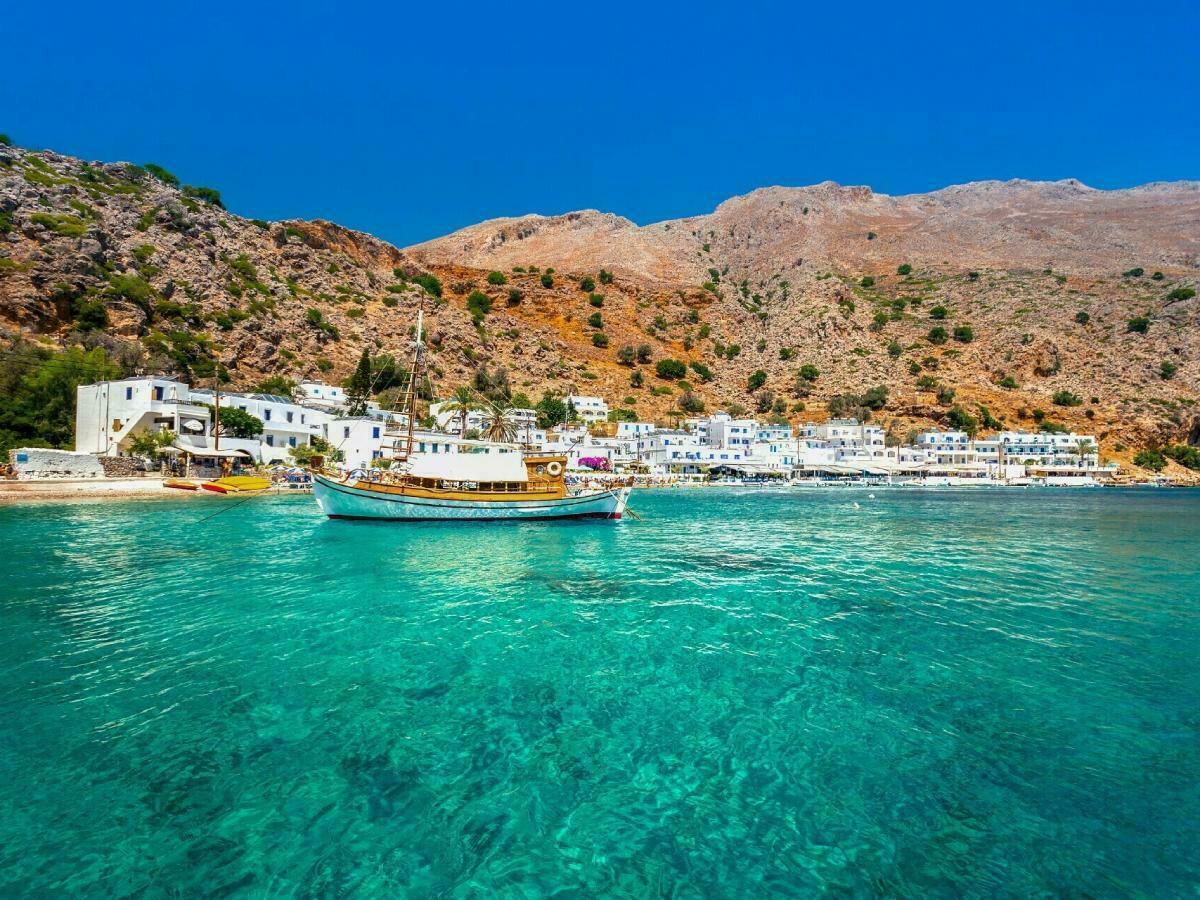 Having a willingness to go the extra miles will prove to be one of the best decisions you'll make. Chania has plenty of gorgeous places and picturesque villages to explore, near and far. If you are feeling like unlocking your inner adventurer during your stay at Samaria Hotel in Chania town, and have an interest in discovering the local Cretan bucolic life, then be sure to check out our top two mountain villages close to Chania, and our top two picks for seaside villages that are further away but are sure to leave a lasting impression.