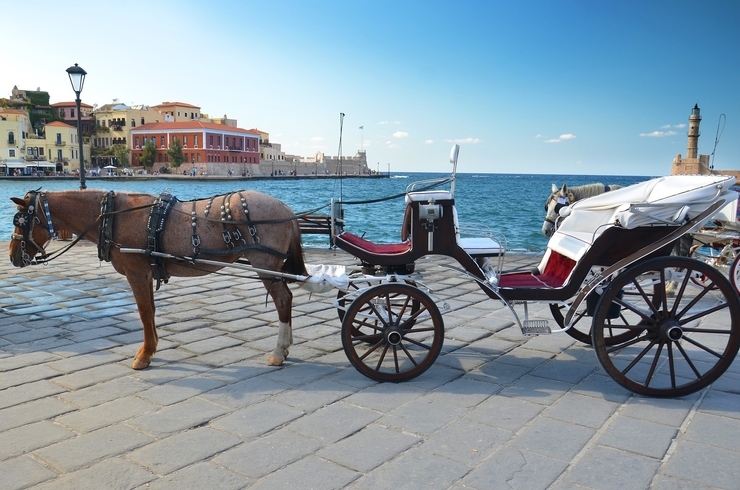 Top things to see and do in Chania
---
The top things to see and do in Chania, based on local insight! As a local hospitality business, at Samaria Hotel we are not exaggerating when we say that the Cretan town of Chania is one of the islands most beautiful places to stay. We wouldn't trade it for anywhere else in the world. It combines a handful of attracting attributes within its confines yet also allows its visitors to seek out the top things to see and do in Chania's environs, including activities within its bountiful natural beauty. The reception desk of our city, 4 star hotel in Chania town can assist guests with making arrangements for tours around Chania, helping to plan individual itineraries or give recommendations on what the top things to see and do in Chania are.

Chania town vibes
Meshing Byzantine, Venetian and Ottoman cultures together, Chania is singularly charming, unpretentious and astonishing, brimming with sites and experiences through which guests can enhance their holiday in Crete. Chania old town is built around its seafront promenade, that has the old Venetian lighthouse as its most iconic landmark. The lighthouse is visible by boats approaching the harbour from afar; equally it commands the attention of the visitors by land making it the most discernible attraction in Chania. Watch the waves crash on the port's rock barrier by day or gaze at the sky-meets-sea horizon painted with divine colours, and lose sight of time. Firkas Fortress is also part of Chania's heritage dating back to the Venetian era, found on the side of the lighthouse, like a fortified, enclosed structure. Further beyond the fortress, you will reach Talos Square and its modern, impressive fountain. Remnants of Chania's Ottoman days are the Mosque of Janissaries, which stands well preserved at the harbour's waterfront and is used today as a cultural space, hosting various art exhibitions. More on discovering the top things to see and do in Chania, is to visit the Splantzia Square too, which is where during the Ottoman era a series of underground turkish baths were housed. For exploring the Byzantine treasures of Chania, don't miss to pay Gouverneto Monastery a visit, which was built in 1537, and the church of Agia Ekaterini, also dating back to the 16th century features an oddly gothic architectural style. These are only some of the many recommendations for soaking up the vibes of our hometown.

Activities within nature
Being the prefecture to which the sensational Samaria Gorge belongs to, Chania is blessed to be one of Crete's most favoured regions. Samaria natural park is a protected area, part of the World's Biosphere Reserve, with diverse flora and fauna. The gorge itself has been chiseled into the rocks over the ages by a small but persistent river that flows from the White Mountains. Its official length is 15 km although it is said to be longer than that too. Starting at a precipice at an altitude of 1,250 meters at the Xyloskalo trailhead, the hike is a steep one down to the base of the gorge, while there are handrails to help those who might struggle a little bit. When traversing the Samaria Gorge, it is not just signposted vegetation and various wildlife you will come across; there are run down chapels, remnants of villages and Venetian Castle ruins. You see the Samaria Gorge was once an inhabited place, until the 1960's when it was turned into a national reserve. The gorge ends at the beach of Agia Roumeli, on the south side of Crete, where hikers can cool off by dipping into the glistening Libyan sea. A less known gorge in Chania is Therisso Gorge which is closer to Chania town and is much shorter at 6 km. It is a less demanding trek to explore this gorge, which makes it more enjoyable for those who are not very active or fit. It is mostly a walk amidst mountain walls but you can also drive through which makes Therisso Gorge a wonderful alternative to the more challenging gorge of Samaria. Of course, Chania's natural beauty is not limited to its verdant mountains; it is a place with incredible shores and discovering the best beaches in Chania is one more of the top things to see and do in Chania. A sailing trip around the northern coast is also viable, mostly suited to those who are more free-spirited and prefer the sensation of being at sea more than anything else.