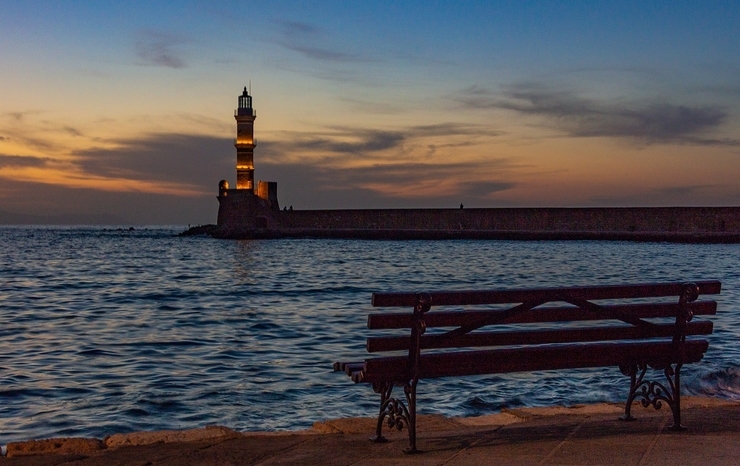 Romantic holidays in Chania: an ideal summer couples getaway
---
Romantic holidays in Chania a most wonderful summer getaway for couples that will be replayed time and again in your memory for years to come. Whether you are in a young, loving relationship, looking to propose, are already married, want to renew your vows or rekindle the old spark, choosing to take romantic holidays in Chania will prove to be a blessing for the both of you. Chania is life changing like that. The coastal promenade around the old, Venetian harbour and the iconic lighthouse, the labyrinth of colourful alleys and endless array of shops, the aromas, the nearby sites, the food and the people create the fabric of an unpretentiously exhilarating vacation that is also quintessentially Greek. To share romantic holidays in Chania, the ideal summer getaway for couples with your significant other, will refresh not only the bonds between you but also awaken new sensations you perhaps didn't know were even there. Once you've booked your romantic holidays in Chania, here are a few of our top things to do on your next escapade with your beloved in our charming coastal city.
Top things to do on your romantic holidays in Chania:
1. Strolling around the Old Town
Soaking up the charm of Chania involves strolling around the Old Town.There are so many things to explore, from the market shops selling all sorts of things including clothes, shoes and accessories to a plethora of food options both restaurants and food stores, many souvenir shops, bakeries, cafes, raki places, mini markets, kafeneions (traditional coffee shop), the list goes on. Only through sauntering around the local part of old Chania town will you be able get a feel of its pulse. As for adding a bit of romance, consider a romantic than a stroll along the water around dusk, with the sky still illuminated from the waning sunset. Watch the lighthouse as it calls you out, like a magical beacon that will take you back in time, even only mentally. Look out into the sea, watch it bounce on the surface, changing colours against the dying light. When you're both ready to turn to face the rest of the world, you'll be drawn by the playful glimmer of lights from the tavernas lined up along the harbour, and you'll slowly stroll back, hand in hand, for more experiences to share during your romantic holidays in Chania.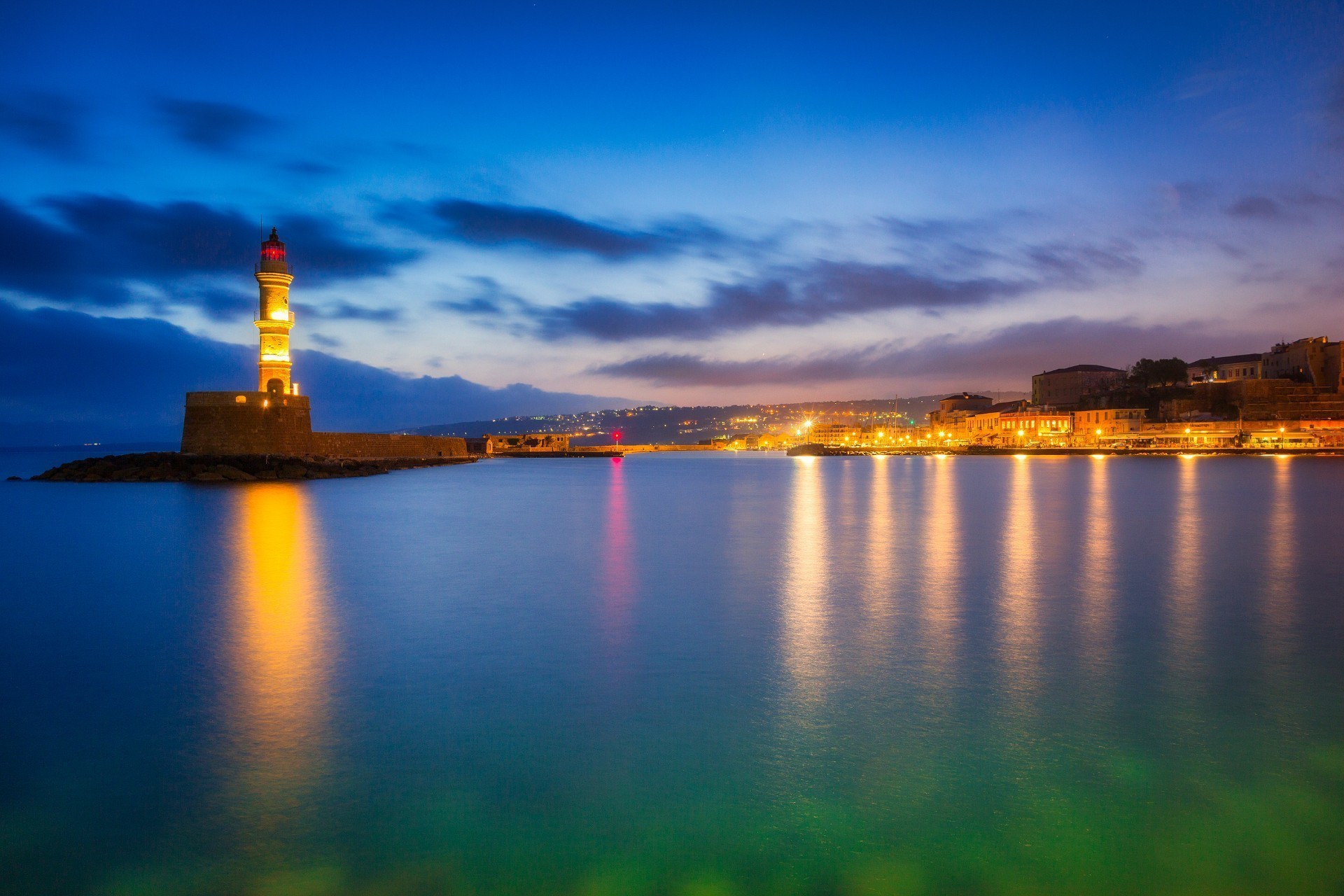 2. Enjoy the sunset from above at Venizelos Graves
For couples who do not shy away from the occasional dash of the macabre, one of the best spots to enjoy the sunset in Chania is at the Venizelos Graves. This is a local's favourite location that provides stunning views of the bay of Chania from an elevated vantage point, offering exceptional vistas from the plateau of the grave site of Venizelos and his son Sophocles. Venizelos was a salient Greek statesman and leader of the national liberation movement in Greece, who has been commemorated there, since Chania was his birthplace. The site is on a small park, overlooking the city from the hill of Profitis Ilias, after the namesake 15th century chapel that you'll also witness there. Couples who wish to soak up the unique vistas offered from this lesser-known point of interest in Chania should do so before sunset. Find a nice little spot to settle for the next hour or so and watch as the sunset wondrously frames Chania city against an epic backdrop of the White Mountains on the left and the sea on the right.
3. Romantic dinner at Koum Kapi
Another local insight for something to do while on your romantic holidays in Chania is to check out Koum Kapi district. Tucked further away from the clamour at the old harbour, to the east a couple of hundreds of meters, the more laid back neighbourhood of Koum Kapi (meaning sand gate in Turkish) offers a splendid alternative to Chania's coastline that few visitors care to discover. For that reason it is mostly frequented by locals, and especially the younger generations so you can expect the vibes to be much more earnest there. The neighbourhood is built along a kilometer or so of sandy seaside. The long stretch of beach of Koum Kapi actually used to be one of the most popular places to swim in Chania but not anymore, due to the deterioration of the quality of water. However, strolling along it you will definitely see why it was one of the most sought after locations of the city in the past. One of the most romantic evenings in Chania could very well start with a lovely dinner in Koum Kapi, quiet enough to set the mood and beautiful enough to take your breath away.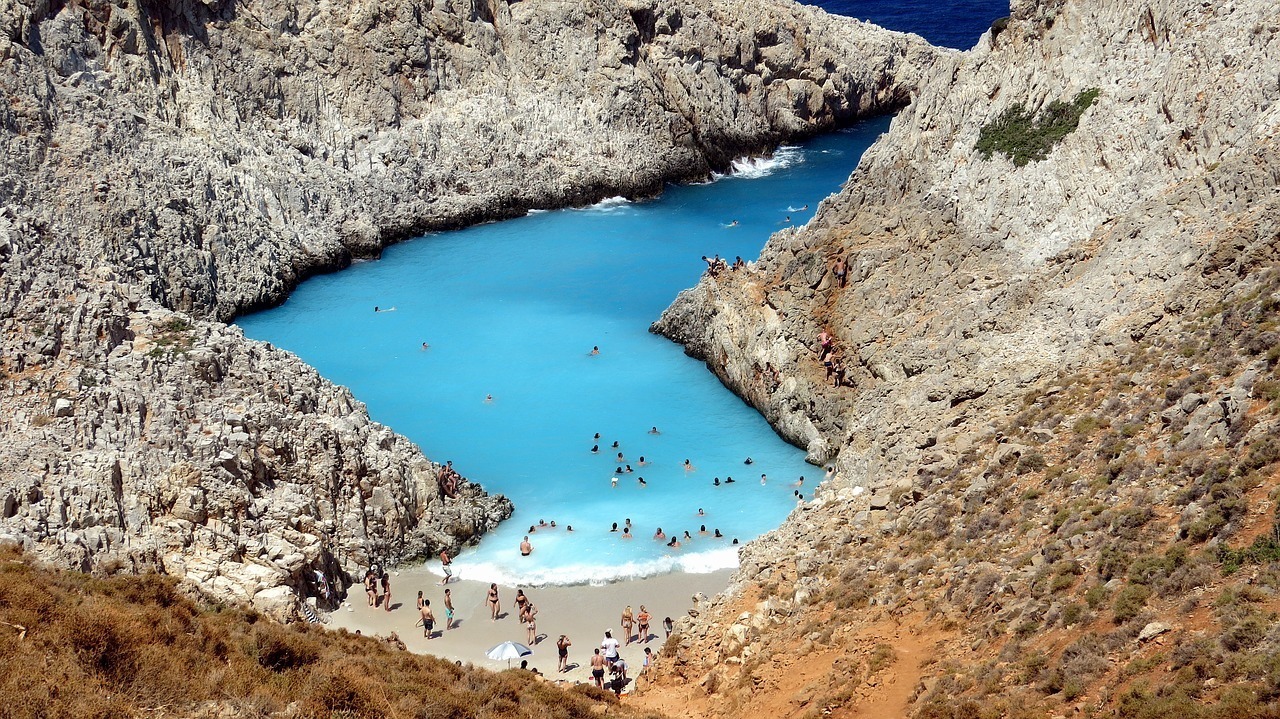 4. Swim at Seitan Limania beach
One beach that deserves its place among Crete's top beaches to visit is definitely Seitan Limania. Shaped like a lightning bolt, with sharp lines that almost form an austere S, this is the ultimate hideout beach in all of Crete. The waters are translucent and the sanded beach part is surrounded by rocky boulders. Due to it being so stunning, it has high demand, plus adding the fact that its beach is not relatively big and that there is an element of hiking when getting to the beach as well, so it is best to visit it during the early hours of the morning. Chances are there will be much less people than around noon and the heat is going to be milder. The sand is so white and fine that the sun's reflection is stronger than usual there. This beach is totally unorganised, so it would be wise to bring your own equipment for shade and also some refreshments to enjoy. Be sure to check some other beaches in Chania you might be interested in.
5. Couples night out for a cocktail at the harbour
No romantic holidays in Chania could ever be complete without a couples night out for a cocktail (or two) at the harbour. The old Venetian harbour is singularly the most enchanting location to spend an evening flirting over cocktails with your significant other. The atmosphere is magical especially at night time when it is even more mesmerising, especially with the moon above it. Not to mention that summer full moon nights at Chania harbour are absolutely enthralling for all five of your senses. Take your pick from one of the numerous bars; there are more lively ones and more casual, laid back ones. Order your and your partner's favourite cocktail, or order one of the signature cocktails if you are feeling adventurous and bar hop as much or as little as you want. Nightlife in Chania stays up till early in the morning so there is no restriction about when is a good time to have a drink. During peak season, between 2-3am is when the nightlife is at its peak.

6. Jacuzzi for two at our Penthouse Suite
And since Chania is such an alluring, vibrant city, we guarantee you'll have a lot to see and do throughout the day. So it makes total sense to have booked our luxury Penthouse Suite with outdoor jacuzzi in Chania, to have somewhere phenomenal to retreat to, indulge yourselves and recharge. Our top floor, luxurious suite is made to appease you and wrap you and your partner in a warm sense of relaxation, intimacy and a world of comforts and conveniences at your feet. Soak till your hearts' content in the outdoor jacuzzi, playing back the day's memories in your head, sipping on champagne and making plans for the nights and days to come. Our helpful staff at reception will be happy to help with any special request you may have in order to make your suite like the perfect romantic haven, for rekindling that spark and making these romantic holidays in Chania unforgettable.