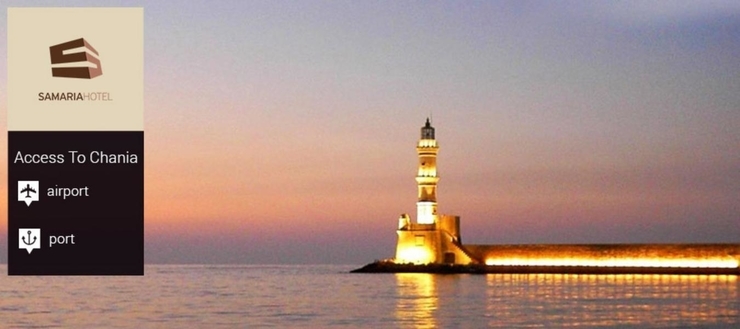 Best Ways to Reach Chania
---
As Crete lies on the most southern edge of the Greek state, your trip to reach this blessed piece of land would be rather long. However, it is worth every minute you spend on your way here. You can either fly or travel by boat, the choice is yours.
How can you get to #Chania?We have all the info you need so you can reach #Chania & #SamariaHotel of course! http://t.co/ga7WJiqNIK #access

— Samaria Hotel (@Samaria_Hotel) October 8, 2014
By boat
The cheapest and most usual way of reaching the large island of Crete is by boat. Ferries depart from the biggest Greek port, Piraeus, and can take you to every single port of Crete, including Chania of course. Your trip will approximately last 8 hours, which could be pretty pleasant if the weather is warm and the ship not too crowded. For travelers who appreciate comfortable trips, cabins are available, but better book them in advance. In case your holidays in sun drenched Greece are quite long, you can also pop over to Chania from southern Peloponnese and the Cyclades, as during the high-season boats depart from Gythion, Kalamata or even Santorini to beautiful Chania!
By plane
If you wouldn't like to spend your precious holidays traveling, then better benefit from the charter flights, which are quite frequent in the summer. Travelers would be glad to find out that recently the Chania has become a hub airport for Ryan Air. If you catch a scheduled flight, then you most probably fly through Athens. If your transit time is long enough then you can go on a short tour around central Athens and take a peek on the city's landmarks, such as the iconic Acropolis!
By bus
Crete also boasts a functional transportation network, so no worries if your plane doesn't take you straight to Chania. You can fly to Heraklion, where flights are more frequent. From there take the bus to Chania and after a 2-hour drive this picturesque city would be ready to amaze you!
Follow Samaria Hotel's board Walking around Chania on Pinterest.
So, make your choice and...welcome to Chania! We are waiting to offer you a comfortable stay at Samaria Hotel!